The world celebrated and welcomed the New Year with much fanfare way back in January, and as days goes by everyone misses an occasion to celebrate. But thankfully, we Indians get many reasons to celebrate and have fun, from various religious festivals to regional New Years, there's no dearth of festivity. And while songs, dances and customs add to the frolic and colourful lives, nothing is complete without food.
So, as many celebrate Vishu and Puthandu, here are some special delicacies to make the celebrations a tasty affair!
Traditional Puthandu recipes provided by The Raintree, Anna Salai, Chennai
Araithuvitta Sambar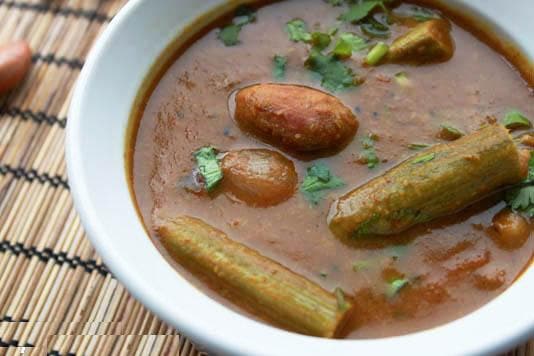 Ingredients:
500g – Thuvar Dal
2 – Drumsticks
5 or 6 – Sambar onions
1 – Tomato
10g – Tamarind
1 tsp – Sambar Powder
1/4 tsp – Turmeric Powder
Salt to taste
To fry and grind:
6 or 8 – Dried Red Chillies
1 tbsp – Coriander seeds
1/2 tsp – Bengal Gram dal (chana dal)
1/4 tsp – Cumin seeds (Jeera)
1/4 tsp – Black Pepper
1/4 tsp – Fenugreek seeds (Meethi)
1 tbsp – Coconut (grated)
2 tsp – Oil
For seasoning:
2 tsp – Oil
1/2 tsp – Mustard seeds
1 pinch – Asafetida powder (Hing)
6 or 8 – Curry leaves
Method:
* Cook the Thuvar dal along with a pinch of turmeric powder in a cooker till soft.
* Cut the drumsticks (or any other vegetable) into 2-inch length pieces. Cut sambar onion into two and finely chop the tomato.
* Soak the tamarind in water and extract the pulp. Add required water and make 2 cups of tamarind water.
* In a Kadai put 2 tsp of oil and fry the red chillies, coriander seeds, Bengal gram dal, pepper, jeera, fenugreek and grated coconut on medium flame till the dal turn golden yellow and nice aroma comes out. Cool it and grind to a paste.
* Now in a Kadai put 1 tsp of oil and add sambar onion and fry till it turns transparent.
* Add chopped tomato and fry till it mashes well.
* Add the drumstick pieces along with sambar powder, turmeric powder and salt. Mix well and add just enough water to cover the vegetable. Cook on medium flame till the vegetable are cooked.
* Add tamarind water and allow it to boil. When it starts boiling, add the ground paste, boiled dal and stir well. Cook till it starts boiling again.
6. Season it with mustard, asafetida powder and curry leaves and serve hot.