The closing weekend of Fashion Design Council of India's (FDCI) India Couture Week (ICW) 2017 drew out the big names from fashion and film to conclude the event in a grand style. The finale show was presented by veteran designer and Bollywood's go-to fashion expert, Manish Malhotra. It only seemed fitting that the current toast of tinsel town Ranveer Singh and Alia Bhatt were the showstoppers for Malhotra's collection "Sensual Affair". One saw a lot of trains, on gowns, lehengas, capes in short and long lengths. Shades of white, beige and cream gold dominated the colour palette. This is a brave collection — with edgier, sharp silhouettes and cuts, deep necks, backless numbers and fitted corset-like blouses — from Malhotra's stable. Blood red outfits and capes added a hint of drama to the collection. "We have even changed the way we use can-can as an underskirt. We made them into cages, which would help facilitate the movement of the wearer," said Malhotra.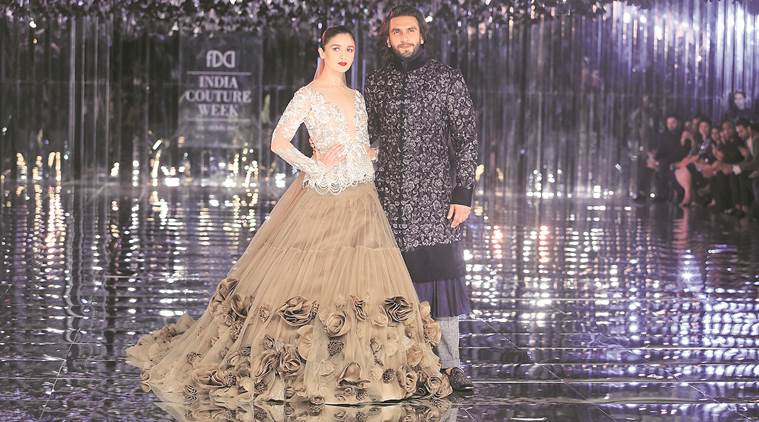 In terms of embellishments, Malhotra stuck to familiar territory with the use of silver and gold thread embroidery, pearl and sequin work. The womenswear featured dresses, gowns and lehengas and the men had richly embroidered bandgala jackets juxtaposed with plain white kurta and pants. Showstopper Ranveer wore a deep blue intricately embroidered velvet jacket, with a flowy kurta, and grey and white checkered pants completed the outfit. Alia Bhatt wore a mud brown lehenga replete with a long train with flowers sown on the hemline for extra flair. Paired
with a heavily embroidered and sequined deep-neck blouse, it frankly failed to impress. Brown is not everyone's colour, including Alia.